VILA-SECA FAMILY RACE ENG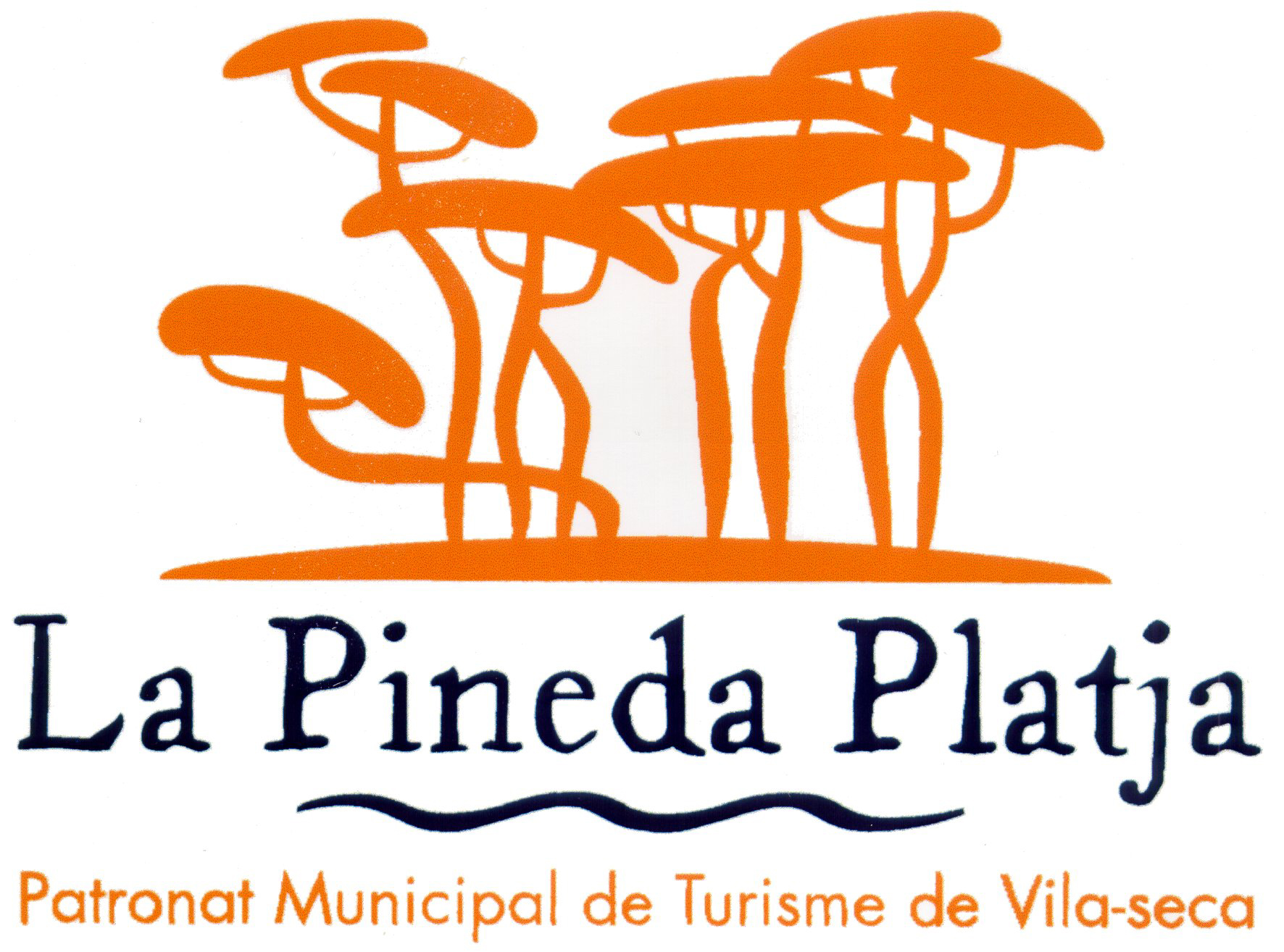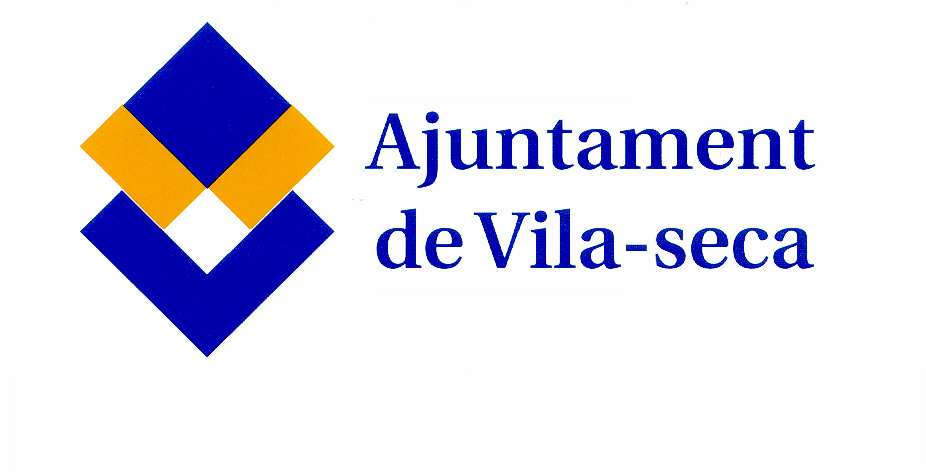 04th AUGUT 2019
VILA-SECA FAMILY RACE 
Sport-family obstacle race with trunks, American track, zone of colors, mud, marksmanship and much more.
FREE REGISTRATIONS at the Municipal Tourism Office of Vila-seca (Patró, 10). Telephone number 977.39.03.62. 

04/AGO – 10:00 a.m. At the Antoni Torroja i Miret primary school. Route throught the streets of the Historic Center of Vila-seca.
RECOMMENDATIONS: During the race you will get wet, you will dirty, you will be covered by color dust, but above all you will have fun with your family, so we recommend that you bring comfortable clothes that can get dirty! And joy… Much happy!!!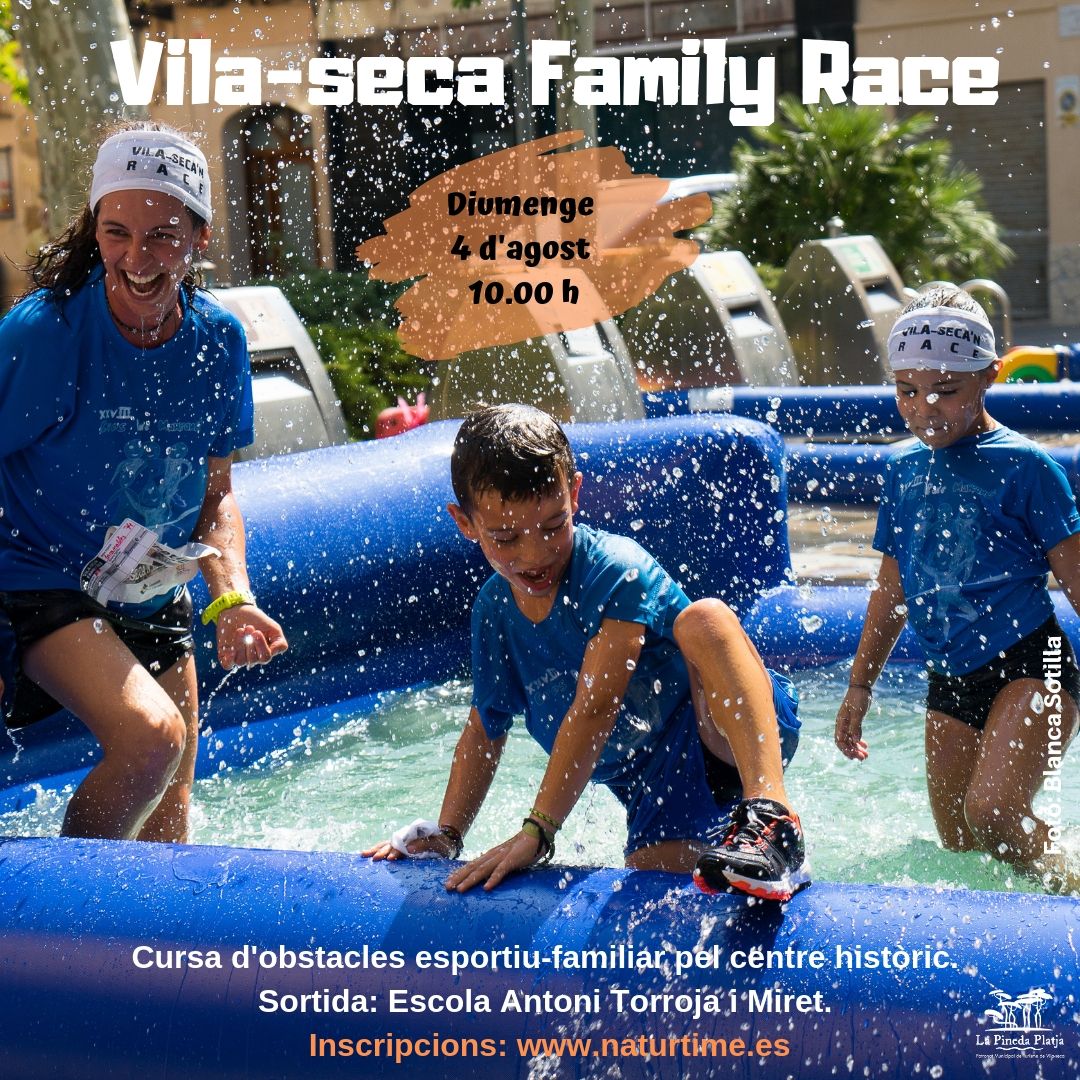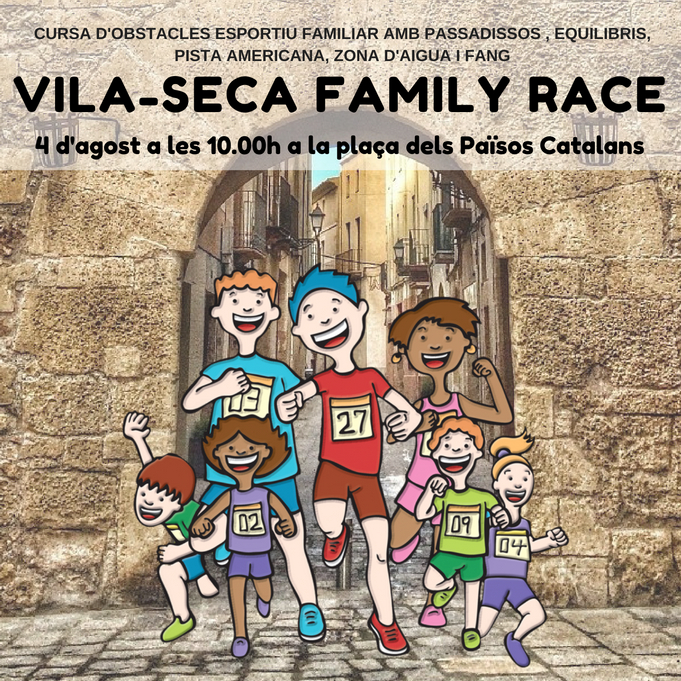 Race Director: Joan Carbonell
Telphine number: 606451453 (10 a 15h)
PROOF 1: START ZONE / HOLI
– War scream and Holi colors tunnel.
PROOF 2: ABAD AURELI ESCARRÉ STREET / AMERICAN TRACK
– Inflatable american track zone. Skill, balance and crawling tests on American inflatable track. Speed ​​Test
PROOF 3: VIRGILI CORRIDOR / SPIDERWEB
– Hidden spiderweb zone. Dexterity test
 PROOF 4: IGLESIA SQUARE / MUD SLIDE
– Water slide area + mud containers
PROOF 5: VOLTES SQUARE / TRANSPORTATION
– Transfer area of ​​different materials. Teamwork.
PROOF 6: HOSPITAL STREET/ BALANCES
– Zone of balance and speed on trunks. Several tests of skill, balance and speed, where each member of the family can participate. On trunks, between trunks, there will be several ways to move from one point to another of the street with different levels of difficulty
PROOF 7: CREUS SQUARE / SPLASH
– Water zone. Inflatable refreshing and different pools with colored water. Everyone will end up wet. An alternative step will be created for those who do not want to get wet. 
from 02th of july to 3rd of august
Registration
Municipal Tourism Office of Vila-seca (Patró, 10

) 

Telephone number 977 390 362.

On-line: REGISTRATION FORM
SUNDAY 4TH OF aUgUst
9:30h to 11:50h – Bib-Numer delivery 

9.45h – Breafing/explanation and doubts

You have to check the assigned departure time and be at least 30 minutes before

It is recommended to bring the MINOR AUTHORIZATION SHEET already printed, filled out and signed to speed up the collection of the number. In the race secretariat there will also be sheets to fill out.

It is necessary to bring the DNI of the adult captain

Notify if there have been changes regarding the list of registration

10:00h – Start of the first exit. Departures every minute

.

12.18h – Last departure

12.30h – Award ceremony and end of activity

From 9:30h to 12:30h

a rest area will be accessible in the finish area to wait for the turn with inflatables, drink and fruit

.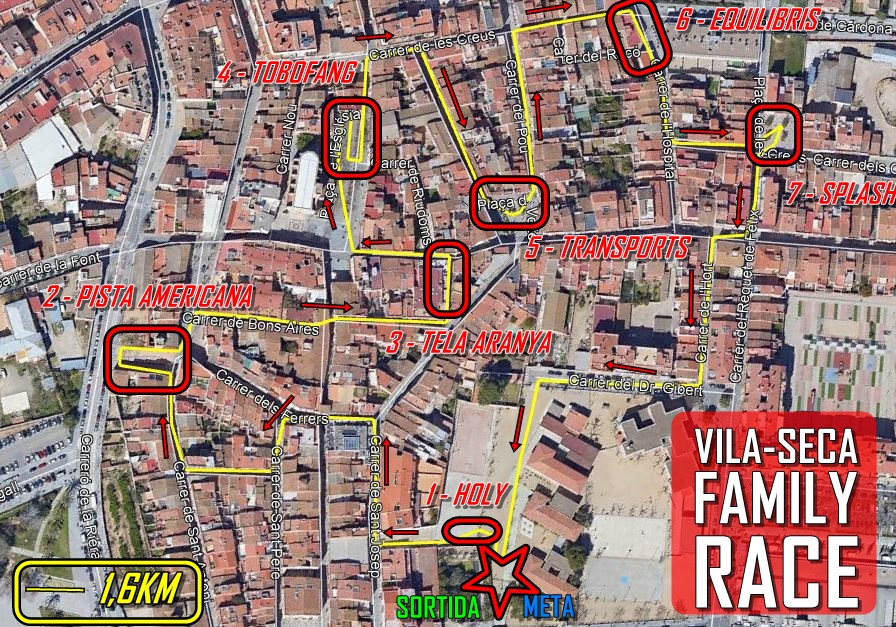 HEAT BUF
Each team will have a maximum of 3 headsets in order to be themed and look more "warriors" than ever. Only one per child.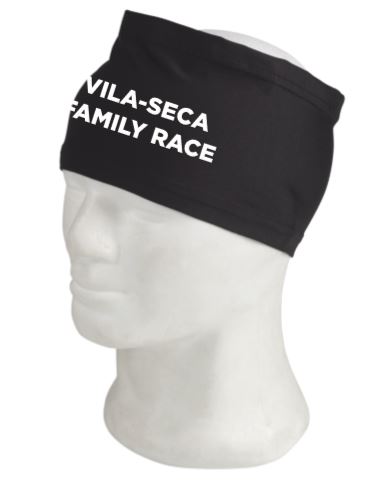 Do you want to become a Vila-seca Family Race VOLUNTEER? You will spend an incredible weekend in a sporty and wonderful environment. Your help is very important and will very much appreciated by the protagonists of this sporting challenge … The runners. You can be in  control post as an assistant, in a provisioning post, at a crossroad, welcoming and delivering numbers, etc. You are really welcomed!
We offer you:
• Enjoy a sporting environment
• Live an "adventure" where you set the limits
• Volunteer's prize for you to have a memory
• Meet many people
And in return we ask you:
• Commitment to the tasks assigned to you
If you are interested, please send an email to [email protected] and we will contact you.
Thank you so much.
Joan Carbonell
Race Director
HOW TO GET THERE?

 RACE SERVICES 

¿How to get at the starting point?  (click here)

The numbers delivery, starting and finishing line will be located at the  playground of Antoni Torroja i Miret primary school in Vila-seca (Tarragona street, núm. 9). 
IMPORTANT:
PARKING: In the racing area it will be difficult to park. You can do it in the northern area of ​​the historic center or in the south area and walk for 5 minutes
SHOWER: In the rest area there will be installed a garden shower in order to be able to clean the remains of the race (holi powders and mud) and at the same time be able to refresh
FINISH LINE PROVISIONING: At the finish line you will have fruit and drink to recover the forces
POP-ESPUMA PARTY: at the end of the Vila-seca Family Race, at the same place the Patronat de Turisme de Vila-seca organizes a super POP-ESPUMA PARTY!!!
VILA-SECA SUMMER FESTIVAL: check here the the Summer Festival program of Vila-seca